This article is a stub!
Please help grow this article by editing and adding useful information.

This article has spoilers!
Beware of the spoilers for the latest books.
Hover over the blurred parts to see the text that reveals spoiler information (from books 5, 6, and 7 - the later books).
Official KotLC Wiki Article:
Edit
https://lost-cities-keeper.wikia.com/wiki/Keefe_and_Sophie
Ship Information
Edit
Sophie and Keefe, Foster-Keefe, or Sokeefe, is a common pairing for both Keefe and Sophie. It is revealed to us that Keefe has had a long-lasting crush on Sophie in the Nightfall Exclusive Addition, yet she knows nothing of this. The main rival for this ship is Sophitz, possibly even more common amongst Keeper fans. Although her longtime crush on Fitz, Sophie may have developed some feelings for Keefe as their remarkable journey progresses, though we have yet to find out if, in the end, this ship will come out to win the
Battle of KotLC ships!!!!!!!
History Together
Edit
Book 1: Sophie and Keefe first met after a slight accident in Sophie's alchemy class. Keefe was constantly and relentlessly teasing Sophie.
Book 2 and 3: They started to stay together more often, and more trust was build between them. Keefe showed that he really cared about Sophie.
Book 4 and 5:
Sophie started getting worried about Keefe's growing recklessness, but their relationship begins to strengthen.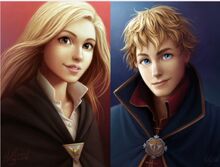 Book 6: Keefe admits that he likes Sophie in the Keefe Short Story, but Sophie is totally oblivious about this.
Other Names
Edit
Sokeefe (So/phie and Keefe)
Kophie (K/eefe and S/ophie) *not a commonly used ship name*
Team Foster-Keefe (as named by Keefe)
Keephie (Kee/fe and So/phie) [Shannon Messenger's name for it.)
Keefoster (as named by Keefe) (Kee/fe and Sophie Foster)
Seefe (K/eefe and S/ophie) *not a commonly used ship name*