Holden Chester Dizznee
Word Bubble
Holden Dizznee »» Mr. Careful »» The Quiet Introvert
♦ "Choose wisely. One decision could change your entire life." ♦

Hail Me
---
Characteristics
| | |
| --- | --- |
| AGE | 15 |
| GENDER | Male |
| SPECIES | Elf |
| RELATIONSHIP STATUS | None |
| MODEL | TBD |
| ABILITY | Vanisher |
| | |
| --- | --- |
| Blond hair, dull blue-grey eyes. | |
Holden is an introvert, much being a result of his unexpected ability - vanishing. This unexpected [and what he believed was not powerful] ability resulted in family isolation and embarrassment. If you bullied Holden in school, then his response would be to vanish and run away. If you were nice to him, he'd blush, thank you, then slowly try to get out of the situation. Either ways, he is an introvert: shy, and unwilling to talk other to people. There was no getting him to talk - unless you showed him one of your skills.

Whenever somebody else shows off a skill, rather than being jealous, Holden proceeds to try and learn how himself, whether it be through your teaching, or on his own. And in the end, he'll come back and show you how he's done it. The days that he accomplishes a task are one of his good days (read the history for clarification). The days that you put him down are one of his bad days (read the history for clarification). This is an example of his perseverance.
Holden is the grandson of Dexter Alvin Dizznee, one of the members of the legendary Keeper Team. His parents, one being Dex's daughter, are also very powerful, with strong abilities. However, Holden's manifest came as a surprise to the family. Everyone was expecting him to be very powerful, but he ended up being a mere Vanisher. This led to isolation and eventually, to him being an introvert.

After manifesting, Holden attempted to keep his secret. He restricted himself with all his might, expecting another ability, but no. This was it. All he was ever going to be in life was a Vanisher. And with Foxfire and his friends pressuring him to manifest, he finally gave way, and revealed his ability.

The news came as a shock to the school. Both his parents had very strong abilities. And now him. His brother and sisters, who were older, and had already manifested, had much more powerful abilities, some even being as powerful as the great Sophie Foster herself. So when he revealed his ability, his siblings became awkward to be around him.

It had started with his siblings. Then it spread to his parents. Later on, most of the Keeper Team members simply shrugged their shoulders and moved on, training the other Keeper descendants, hoping they would "show results." But in the sea of skeptics, there were some believers too. Dex, his grandfather, had also thought some of the same things when he was young - that his ability was weak and not useful. However, Holden was done with his family members trying to make him feel good. It was always done awkwardly, and how was Dex any different?

Hence, he started going to Keefe, him being an empath. Keefe helped Holden get through his bad days and be there with him through his good ones, with his empathy ability. And of course, he taught him the ways of pranking - not that Holden ever used them anyways.

Keefe ended becoming almost like a parent to Holden, thus strengthening their relationship.
Image Gallery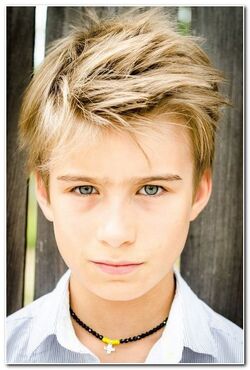 ---
This form is for RP Characters. Fill it out and send it to Rida
Roleplay Character Form
For Holden Chester Dizznee
---
What To Do
Fill out this form and send it to Rizi213 (through message wall) to get your RP Character made and officially certified. Note: If the questions are not answered as in depth as needed,they will be sent back.
---
Form
Full Name

Holden Chester Dizznee


Roleplayer

ThoseWhoWanderAreNotLost


Hair Colour

Blond


Eye Colour

Dull blue-grey


Ability

Vanisher


Family

Mother = Unknown
Father = Unknown
Brother(s) = Unknown
Sister(s) = Unknown


Model

{{{Model}}}


History

Holden is the grandson of Dexter Alvin Dizznee, one of the members of the legendary Keeper Team. His parents, one being Dex's daughter, are also very powerful, with strong abilities. However, Holden's manifest came as a surprise to the family. Everyone was expecting him to be very powerful, but he ended up being a mere Vanisher. This led to isolation and eventually, to him being an introvert.

After manifesting, Holden attempted to keep his secret. He restricted himself with all his might, expecting another ability, but no. This was it. All he was ever going to be in life was a Vanisher. And with Foxfire and his friends pressuring him to manifest, he finally gave way, and revealed his ability.

The news came as a shock to the school. Both his parents had very strong abilities. And now him. His brother and sisters, who were older, and had already manifested, had much more powerful abilities, some even being as powerful as the great Sophie Foster herself. So when he revealed his ability, his siblings became awkward to be around him.

It had started with his siblings. Then it spread to his parents. Later on, most of the Keeper Team members simply shrugged their shoulders and moved on, training the other Keeper descendants, hoping they would "show results." But in the sea of skeptics, there were some believers too. Dex, his grandfather, had also thought some of the same things when he was young - that his ability was weak and not useful. However, Holden was done with his family members trying to make him feel good. It was always done awkwardly, and how was Dex any different?

Hence, he started going to Keefe, him being an empath. Keefe helped Holden get through his bad days and be there with him through his good ones, with his empathy ability. And of course, he taught him the ways of pranking - not that Holden ever used them anyways.

Keefe ended becoming almost like a parent to Holden, thus strengthening their relationship.


Personality

{{{Personality}}}


Word Bubble


Holden Dizznee »» Mr. Careful »» The Quiet Introvert
♦ "Choose wisely. One decision could change your entire life." ♦

Hail Me
---